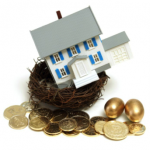 Residential property is lower risk than most other investments in a SMSF
SMSF ownership is growing rapidly with over 520,000 funds already in existence that control over $540 billion in assets. A large number of users' balance their asset classes with only direct shares and a portfolio of managed funds. These can provide significant income returns through dividends but tend to be more volatile. If you would like say 50% of your SMSF in a lower risk arena then consider this; Australian direct property along with other cash flow positive investment generating assets.
Diversify risk to protect yourself and your retirement!
Australian residential property is known worldwide for its robustness. Property is never worth nothing. Companies disappear and investment funds may collapse however in a worst case scenario, if the building on a piece of land collapses, then you still have the value in the land. Time will help iron out discrepancies … history has shown us that this is a long term, low risk strategy.   The Property market will always eventually bounce back
It is important that this investment meets your risk tolerance. Refer to a risk profile to determine your comfort levels.
About the author;
Jason Agnew
BHMAcc / Part CIMA / DFS (FP) / GradDip Const.
Real Estate Agent Qld – Licence No: 3702512
LYFE PROPERTY
Under the brand of Lyfe Academy, this husband and wife team, Jason & Louise, have grown the Lyfe Group to incorporate financial education, financial planning and property investment.
At Lyfe Property our team aligns your goals and objectives with your investment strategy. We educate, support and mentor you through your personal program and ultimately create you long term, sustainable wealth. We take the guess work out of property investment.
Building your family wealth, one property at a time.
The information contained in this article is of a general nature only, does not take into account your particular objectives, financial situation or needs. Accordingly the information should not be used, relied upon or treated as a substitute for specific financial advice. Whilst all care has been taken in the preparation of this material, no warranty is given in respect of the information provided and accordingly neither Lyfe Academy, Lyfe Planning, Lyfe Property nor its employees or agents shall be liable on any ground whatsoever with respect to decisions or actions taken as a result of you acting upon such information.